Parade & Queens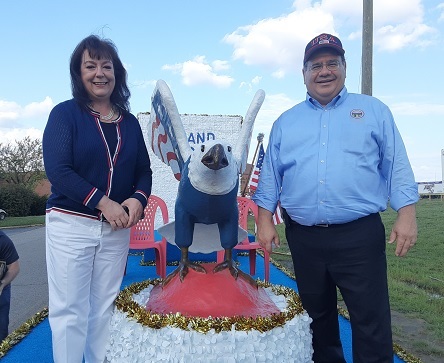 Queens Pagent and Banquet is
sponsored by:

Grand Parade
Date: Wednesday, August 31, 2022
Starting Time: 6:00 p.m.
2021 Grand Marshal: Senator Tim Schaffer
Units: Approximately 150
Participation: Pre-festival registration, INVITATION ONLY.
Description: The Millersport Lions Club was honored to have State Senator Tim Schaffer along with his wife Lori of Lancaster serve as the 2021 Grand Marshal.

Senator Schaffer was selected to be honored because of his tireless efforts to reopen Ohio's fairs and festivals after the ban on mass gatherings in Ohio due to the COVID Pandemic. Senator Schaffer worked closely with the Ohio Festivals & Events Association, Ohio Fair Managers Association, the Greater Ohio Showmen's Association and key legislative leaders to lift the ban and allow the public to participate in outdoor community celebration during 2021. Senator Schaffer is also being recognized for his unwavering support and involvement in the revitalization of Buckeye Lake, Ohio's first state park.

Senator Schaffer is serving his third term in the Ohio Senate representing the 20th Senate District that encompasses Fairfield, Guernsey, Hocking, Morgan, Muskingum and parts of Athens and Pickaway Counties. He serves as the Chairman of the Ohio Senate Agriculture and Natural Resources Committee.

Chairman's email: Parade & Queens

Queen and Court
2021-2022 Queen Rachel Lee – (Licking Valley)
Rachel is the daughter of Eric & Stephanie Lee of Newark, Ohio. She attends Licking Valley High School where she is a member of the National Honor Society, Tri-M 480, Communication Chair for Vocal Impact, Marching Band, Drumline, Senior Leader, Dance Captain of the Show Choir and had the lead role in the 2021 Licking Valley Musical. Rachel volunteers for the Heartbeats Nonprofit Pregnancy Center as a Childcare Supervisor and Boutique Clerk and St. Francis de Sales Parish as a Youth Leader and Vacation Bible School Leader. Since 2017, she has been a Childcare Provider at St. John's Church of Christ. Rachel plans on attending the University of Akron with a major in Criminology with a double minor in music and Spanish.

2021-2022 First Runner-Up Macey Ranck – (Sheridan)
Macey is the daughter of Wade & Kriste Ranck of Newark. She attends Sheridan High School where she is a member of the member of the National Honor Society, Marching Band as Section Leader of the trumpets, Show Choir Band, Drama Club as Stage Manager, School Yearbook, Jazz Band, Concert Band, Pep Band, Prom Committee, Gold & Silver Renaissance and a Red Cross Blood Drive Intern. She has made blankets for the Newark Humane Society, made care packages for the Granville Women's Shelter, and made blankets for the Alter Care Nursing Home. Macey plans on George Washington University in Washington, D.C. majoring in political science with a minor in international relations and travel the world helping people.

2021-2022 Second Runner-Up Megan Groves – (New Lexington)
Megan is the daughter of Richard & Patricia Groves of New Lexington, Ohio. She attends New Lexington High School where she is active in the Marching Band, Jazz Band, Soccer, and Winter Guard. She serves on the State Executive Council for FCCLA, is a Sound Technician for the Drama Department and is an Academic Award Recipient. Megan is a 4-H Camp Counselor, Cloverbud Camp Counselor, and has volunteered at the Dog Shelter and the Nursing Home. Megan plans on attending Ohio University and major in Music Education.

Chairman's email: paradeandqueens@sweetcornfest.com

SWEET CORN FESTIVAL Queen & Court Rules:

Takes place Thursday, September 1, 2022 at 7:30 p.m. on the Main Entertainment Pavilion. Each of the 18 area high schools select a young lady to represent them in our pageant. These young ladies participate in our Wednesday Grand Parade along with their high school band. On Thursday of our festival, they begin their path through the judging process with closed doors individual interviews beginning at 5:30 p.m. in the Lion's Club house. These interviews are conducted by 5 judges from outside the geographical area of these 18 high schools. Neither the judges nor the young ladies know who the other group is until 5:00 p.m. on Thursday of the festival. Following the closed door interview and the group walk through, the young ladies are then escorted onto the Main Entertainment Stage for public interview one at a time while continuing to be observed by the judges. following the completion of the on stage interviews, the judges retire to the Club House to tally their score sheets and determine our Queen, 1st and 2nd Runners Up.

The judging is based on 20% Activities, 15% Interview Questions, 15% Personality, 20% Speaking Ability, 15% Stage Presence, and 15% Overall Appearance.