Parade & Queens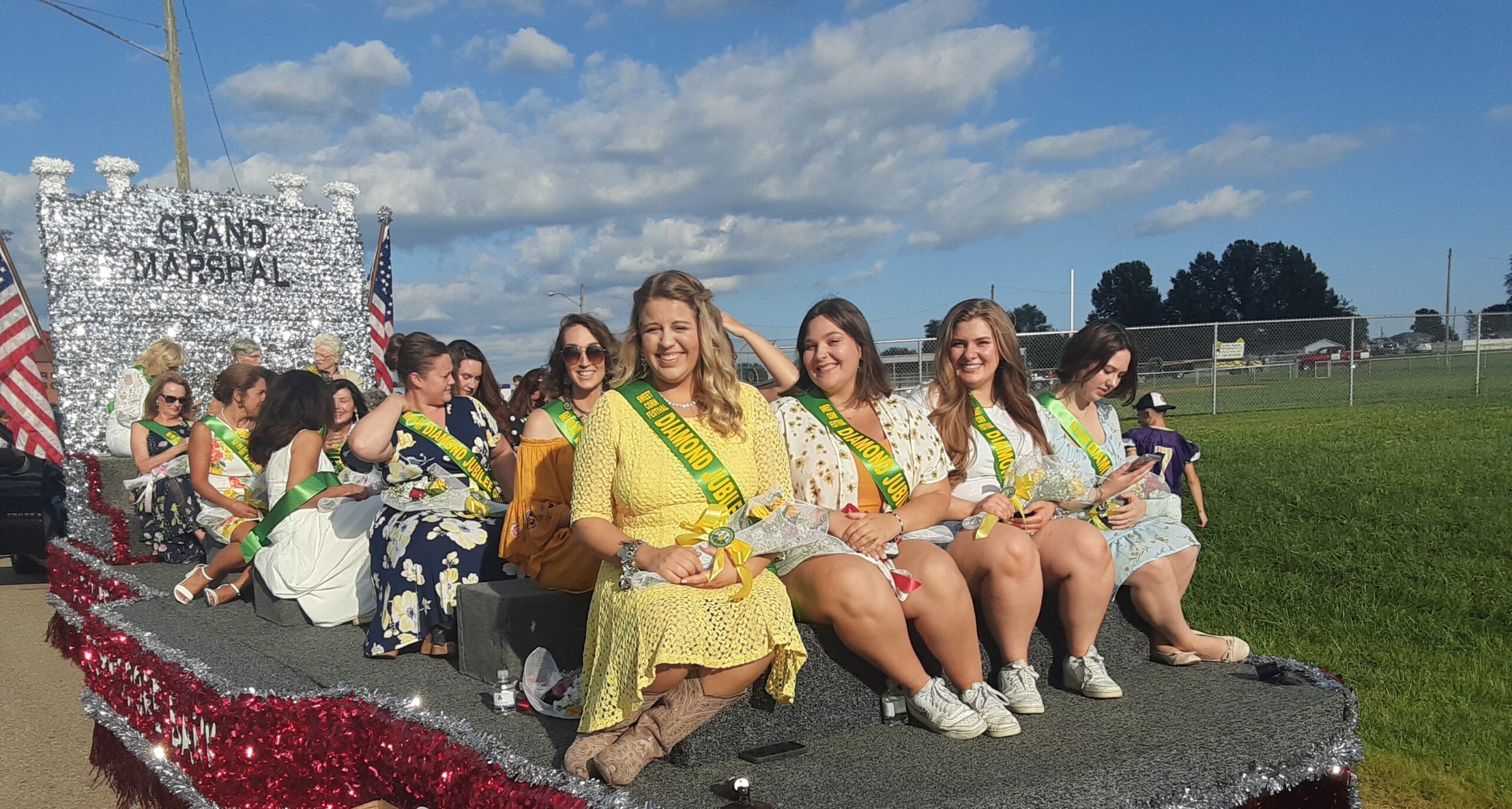 Grand Parade
Date: Wednesday, August 30, 2023
Starting Time: 6:00 p.m.
2022 Grand Marshal: 75th Diamond Jubilee Past Queens
Units: Approximately 150
Participation: Pre-festival registration, INVITATION ONLY.
Description: The Millersport Lions Club was honored to have our Past Sweet Corn Festival Queens serve as the 2022 Grand Marshals. Since the first pageant held in 1948, they have served as our "Goodwill Ambassadors" ever since in parades and at events throughout Ohio. Those appear on the Commodore Float on Wednesday, August 31 to kick off the "Diamond Jubilee" 75th Celebration were Majorie Leitnaker (1949), Carolyn Dupler (1950), Ann Wagner (1953), Karen Butt (1961), Vicki Kraner (1963), Linda Brobeck (1967), Vicky Davis (1972), Jill Johnson (1973), Erin McCurry (1978), Jayne Shook (1979), Roxi Erwin (1980), Darlene Buck (1981), Marya Young (1982), Sharon Compton (1983), Meredith Freedhoff (1984), Deanna Somers (1987), Catherine Baird (1989), Nicole Donnini (1993), Kimberley Osborn (1994), Jan McGarry (1995), Brittany Cusick (1998), Rachel Edwards (1999), Jackie Rutan (2002), Noel Buurman (2004), Natalie Wilkinson (2006), Jeanette Brown (2007), Kendra Landis (2009), Caitlyn Tietje (2010), Jordan Ellis (2011), Briana Keyes (2012), Johnna Whetstone-LeuVoy (2014), Melissa Mahler (2016), Dana Gregory (2017), Hannah Horsington (2018), and Lindsay Drumm (2019 & 2020).

Chairman's email: Parade & Queens

Queens Pagent and Banquet is
sponsored by: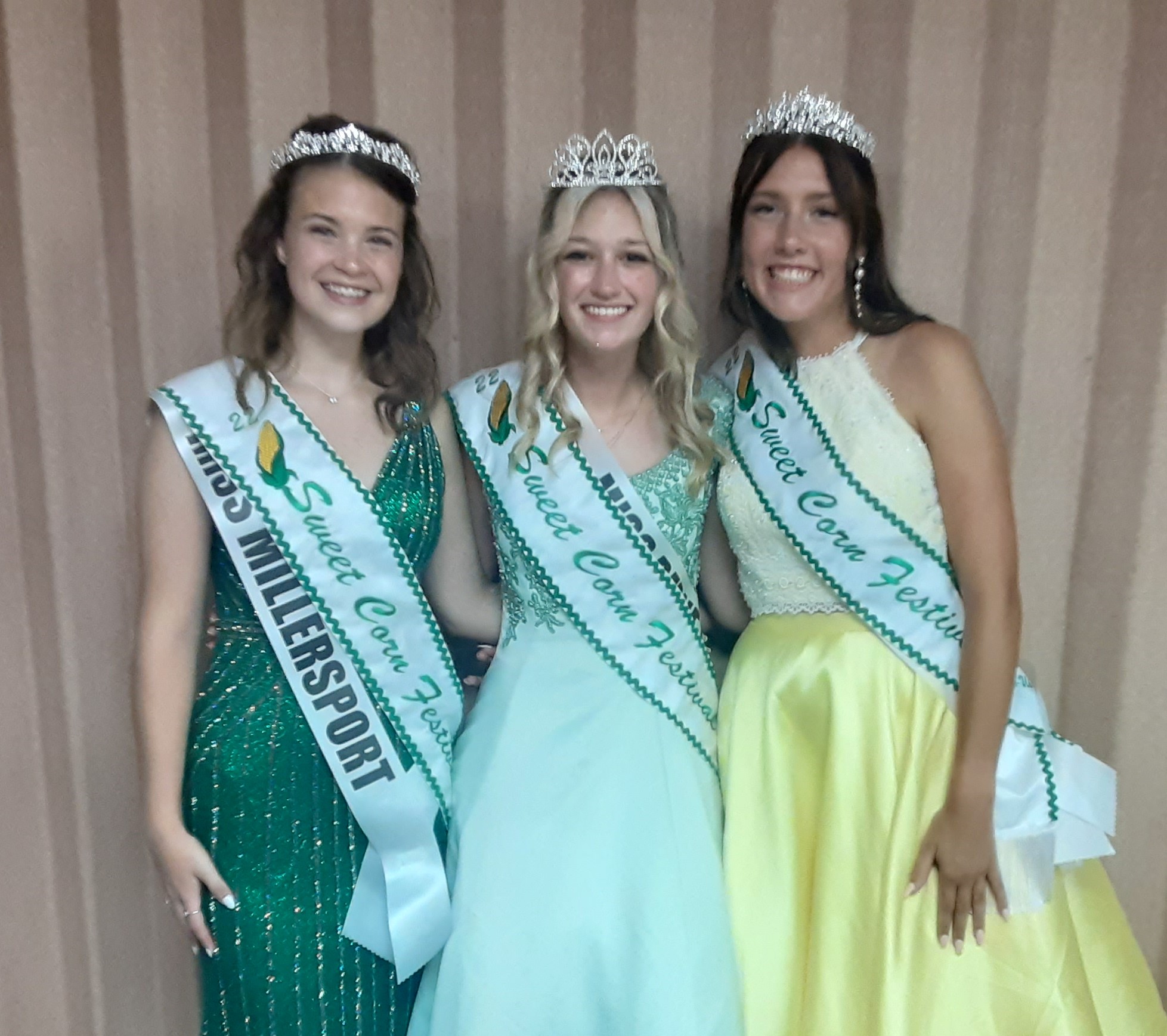 Queen and Court
2022-2023 Queen Brooke Schwegler – (Berne Union)
Brooke is the daughter of Mary and Adam Hollett of Lancaster, Ohio. She attends Berne Union High School where she is a member honors choir, a cappella group, track, Big Brothers Big Sisters, theatre, marching band and serves as first chair flute player in the school's highest band. Brooke has serves on student council for 3 years and has completed all CCP classes and classes at Ohio University Lancaster. She volunteers for her church's worship team, vacation bible school, 4-H club, and at Connexion West. Brooke enjoys job at a local coffee shop where she has been recognized as Employee of the Month. She has also as an intern in her church and done childcare for her church, family and friends. Brooke started taking college classes her sophomore year and will be graduating with a minor in psychology. She wants to obtain a BSH to become a psychiatric nurse and then a traveling nurse for a few years, In her free time, she enjoys piano, singing, acting, reading, traveling, creating new coffee drinks, and spending time with family and friends.

2022-2023 First Runner-Up Kendyl Glenn – (Logan)
Kendyl is the daughter of Matt and Shauna Glenn of Logan, Ohio. She attends Logan High School where she is a member of the National Honor Society, Chamber Singers Choir, Key Club International, Varsity Soccer, Choir Leadership Council and Drug Free Clubs of America. Kendyl is a Red Cross Blood Drive Leader, Junior Student Council Officer and served as Freshman and Sophomore Class President. She volunteers for Shop with a Cop at Christmas, working the concessions for sporting events, 4-H, Cake Walks for the athletic programs, Kidspoolza, singing for elementary students, making cards for nursing home residents, Mingo Park Clean-up projects, Kids Soccer Camp and planting flowers in downtown Logan for Logan in Bloom. Kendyl enjoys her job in a small business in Logan that sells handmade items by artisans from around the world and plans to study Nursing with plans to become a travel nurse. In her free time, she enjoys singing, running, modeling, yoga and playing with her cat, Remi.

2022-2023 Second Runner-Up Alayna Thompson – (Millersport)
Alayna is the daughter of Nichole Carle and Rick & Theresa Thompson of Millersport, Ohio. She attends Millersport High School where she is active in the cheerleading, student council, National Honor Society, and the American Sign Language Club. Alayna is an honor roll student and has been selected as Student of the Month, MSL Second Team All-League, Academic All-League, Prom Princess and Homecoming Attendant. She volunteers at the Millersport United Methodist Church Vacation Bible School, MHS White Christmas, Little Lakers Cheer Clinic, Book Fair and for the Fairfield County Board of Elections. Alayna enjoys her job as a barista at a local coffee shop and plans to focus on early childhood education, sign language or the medical field at Ohio University.

Chairman's email: paradeandqueens@sweetcornfest.com

SWEET CORN FESTIVAL Queen & Court Rules:

Takes place Thursday, August 31, 2023 at 7:30 p.m. on the Main Entertainment Pavilion. Each of the 18 area high schools select a young lady to represent them in our pageant. These young ladies participate in our Wednesday Grand Parade along with their high school band. On Thursday of our festival, they begin their path through the judging process with closed doors individual interviews beginning at 5:30 p.m. in the Lion's Club house. These interviews are conducted by 5 judges from outside the geographical area of these 18 high schools. Neither the judges nor the young ladies know who the other group is until 5:00 p.m. on Thursday of the festival. Following the closed door interview and the group walk through, the young ladies are then escorted onto the Main Entertainment Stage for public interview one at a time while continuing to be observed by the judges. following the completion of the on stage interviews, the judges retire to the Club House to tally their score sheets and determine our Queen, 1st and 2nd Runners Up.

The judging is based on 20% Activities, 15% Interview Questions, 15% Personality, 20% Speaking Ability, 15% Stage Presence, and 15% Overall Appearance.