Major Prize Winner – 2021
Congratulations to Stacey Clements of Millersport, winner of the $5,000 Major Prize!


The Millersport Sweet Corn Festival would like to thank all who participated in the 2021 contest and to all the groups who sold tickets! We appreciate your support!

2022 "Diamond Jubilee" Major Prize Tickets are available now!!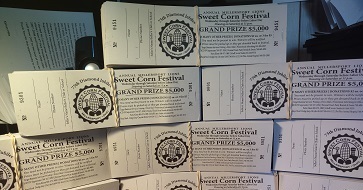 Want to make money easily for your non-profit organization? Read on!!

Be the first to get your tickets to sell by contacting Major Prize Chairpersons Kelvin & Robin Hite by email for an application to sell tickets. Simply click on: MajorPrizeTickets. Tickets are available now!!

Since the very first Sweet Corn Festival when the Major Prize was a brand new set of four white walled tires donated by one of our founders, Tom Kindred, owner of the town's Pure Oil Station, the Millersport Sweet Corn Festival has provided the opportunity for nonprofit organizations to raise money by selling Major Prize tickets.

Want to be a major winner? Read on!!
Major prize tickets can be purchased from numerous nonprofit organizations that are part of our festival family or from any Millersport Lion member. During the Sweet Corn Festival the only place to purchase a chance to win is at the Major Prize Building located at Founders Commons, only a few feet from the place to purchase our delicious, hot buttered sweet corn. The tickets are affordable at $2 each or $5 for a book of 3 tickets. Buy as many as you want, no limit to the number of prizes you can win. All tickets will be returned to our big barrel for a chance to win the 2022 Major Prize. But you have to buy a ticket to win!!
Make sure you stop by and purchase your ticket for a chance to Win!
Check this page each night during the Sweet Corn Festival to see if you are a winner. Winners can pickup their prize anytime during the Sweet Corn Festival or on Saturday 9/10 or 9/17 from 10 a.m. until 2 p.m.

Thank you to our 2022 Major Prize Sponsors!