Major Prize Winner – 2022
Congratulations to
Laurie Coleman

on being our 2022 Major Prize winner!!


Click below to view this year's daily Prize winners:


Winners can pickup their prize on Saturday 9/10 or 9/17 from 10 a.m. until 2 p.m.

The Millersport Sweet Corn Festival would like to thank all who participated in the 2022 contest and to all the groups who sold tickets! We appreciate your support!

2023 Major Prize Tickets available next spring!!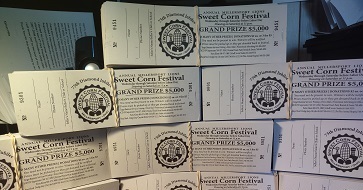 Want to make money easily for your non-profit organization? Read on!!
Since the very first Sweet Corn Festival when the Major Prize was a brand new set of four white walled tires donated by one of our founders, Tom Kindred, owner of the town's Pure Oil Station, the Millersport Sweet Corn Festival has provided the opportunity for nonprofit organizations to raise money by selling Major Prize tickets. If you are a non-profit and need an easy fundraiser, contact Major Prize Chairperson Kelvin Hite by email for an application to sell tickets. Simply click on: MajorPrizeTickets. Tickets will be available next spring!!


Thank you to our 2022 Major Prize Sponsors!