Amusement Rides and Attractions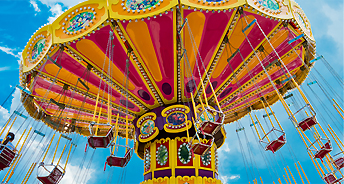 Durant Enterprises, Inc.
Sweet Corn Festival Amusement rides in the midway provides hours of fun for the festival attendees!!
Durant Enterprises, Inc. offers over 20 amusement rides for the festival midway.
The following information details the pricing for this year's Festival.

Midway Ride Prices:
Single tickets $1.50 or 30 tickets for $35.00.
All rides take 2 to 3 tickets.
Wristband for Ride Special is $20.00.

Midway Ride Specials:
Wednesday & Thursday 5:00PM – 11:00PM and Saturday 11:00AM – 5:00PM

Purchase a wristband for $20.00 and enjoy all the rides during the 6 hours noted above.
Each day REQUIRES a new wristband. Purchase early – wristbands will not be sold in the final 90 minutes each day of the ride special.


Save an extra $2 by using the coupon found
here. Coupons are good only for Wednesday and Thursday wristband ride special. See coupon for details.

See official website:
www.durantamusements.com for more information.