Parade & Queens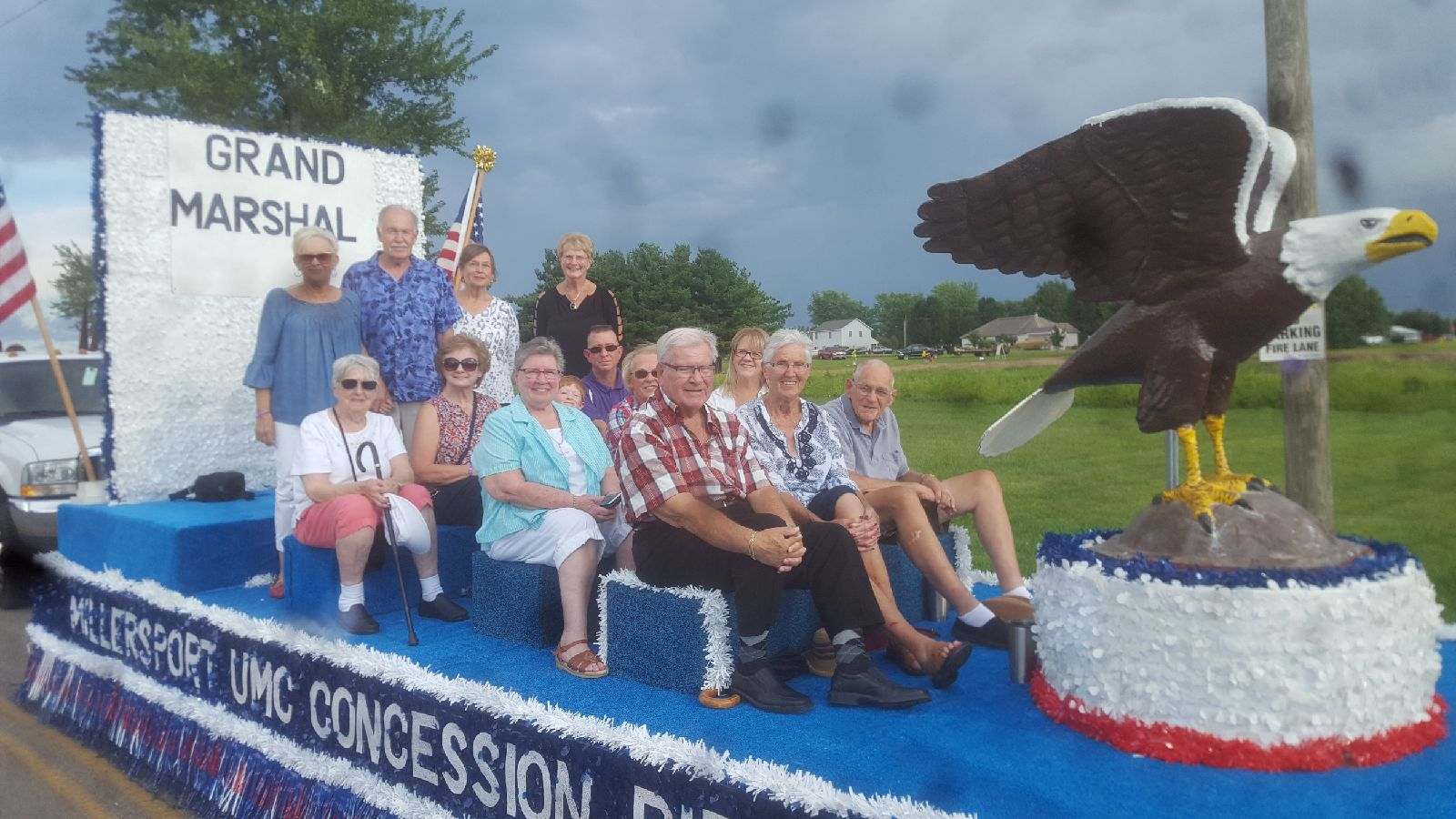 Queens Pagent and Banquet is
sponsored by:

Grand Parade
Date: Wednesday, August 28, 2019
Starting Time: 6:00 p.m.
2018 Grand Marshal: Millersport United Methodist Church Concession Outreach Ministry
Units: Approximately 150
Participation: Pre-festival registration, INVITATION ONLY.
Description: The Millersport parade is an annual event to open the Sweet Corn Festival starts at Millersport High School and travels north on Lancaster Street in Millersport and turns east onto Chautauqua Boulevard finishing at Historic Lions Park in front of the Brookover/Harlow Pavilion. Featuring 18 High School Bands and a variety of other units.

The Millersport Lions Club was honored to have the Millersport United Methodist Concession Outreach Ministry serve as the 2018 Grand Marshals. This honor was in recognition of their unwavering dedication and loyal service for the past 9 years to the Sweet Corn Festival.

Working behind the scenes every Thursday of Festival Week, the members of the Millersport United Methodist Church plan, prepare and serve a delicious home-cooked lunch to all of the midway workers with the Durant Amusement Company.

This unique outreach ministry is their way of showing these hard-working Americans and new immigrants that someone values and cares about what they contribute every summer to the families and children that attends fairs and festivals. It gives them a touch of home and makes them feel welcome and comfortable in our community.

Chairman's email: paradeandqueens@sweetcornfest.com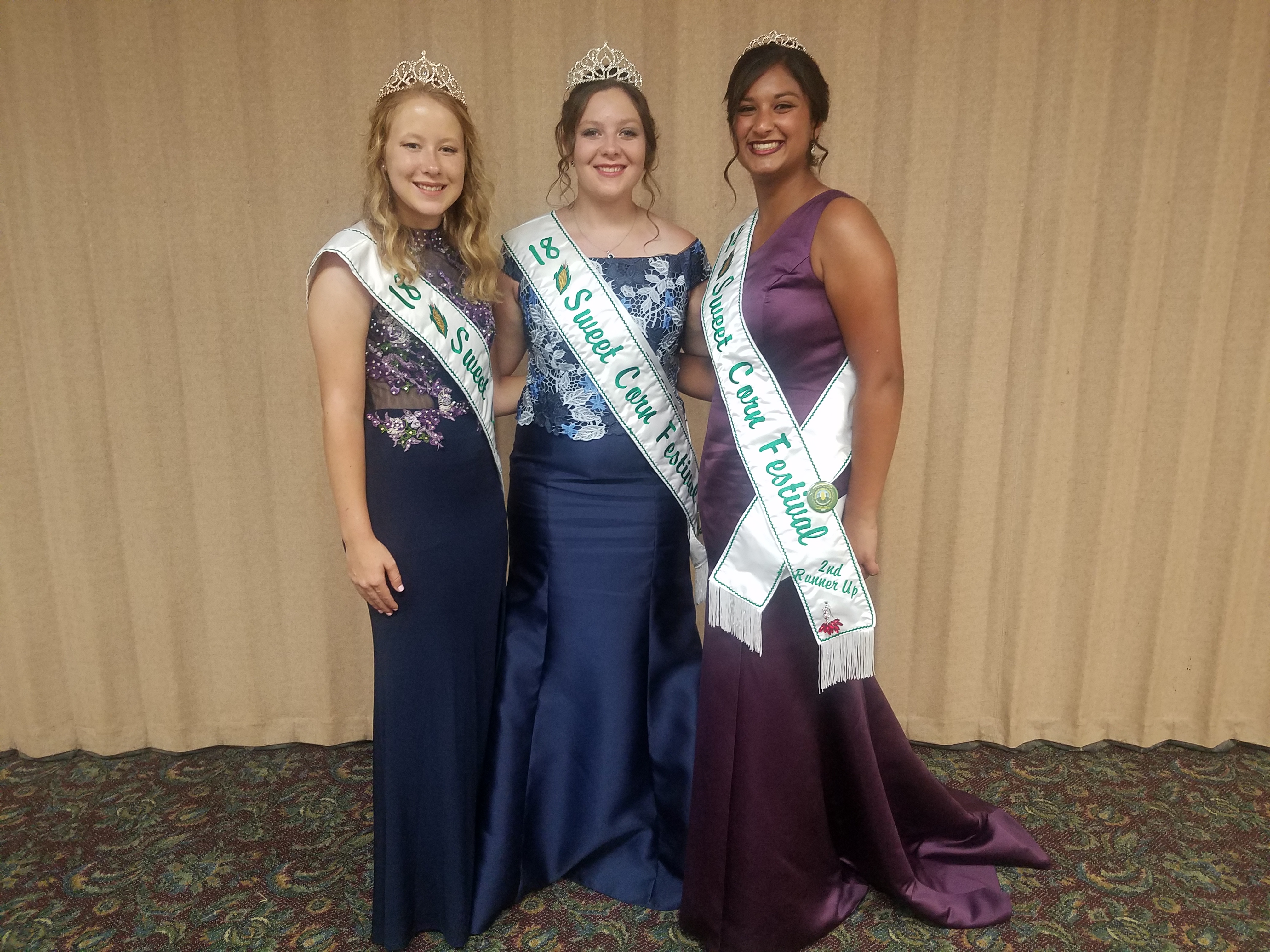 Queen and Court
2018 Queen Hannah Horsington – (Lakewood)
Hannah is the daughter of JoEllen Frazee and Scott Horsington of Hebron. She attends Lakewood High School where she is Student Council President, a member of the National Honor Society, Drama Club, School Newspaper Co-Editor, and a Cheerleader. She has participated in food drives, highway clean-ups, adopted a family for Christmas, and volunteered for the Columbus Autism Walk and Newark Night to Shine. Hannah plans to attend a four-year university and major in journalism or political science, specializing in broadcast journalism and one day become a news anchor.
2018 First Runner-Up Rachel Allen – (Northridge)
Rachel is the daughter and Randy & Lisa Allen of Alexandria, Ohio. She attends Northridge High School where she is a Varsity Cheerleader, on the track team, a member of the National Honor Society, and has earned a State FFA degree. She is very active in 4-H having served as President, Vice President and Secretary of her club, a Summer Camp Counselor, a member of the Hartford Junior Fair Board, Secretary of the Licking County Food & Fashion Board and the State Fashion Board. Rachel plans on attending a four-year college for Fashion Design and some day have her own line of clothing.
2018 Second Runner-Up Naya Singh – (Licking Heights)
Naya is the daughter of Arvin & Tanya Singh of Blacklick, Ohio. She attends Licking Heights High School where she is active in the National Honor Society, Student Council, Peer Mentor & Mediation Groups, choral music, and color guard. Naya has had 6 years of honors choirs for OMEA, 5 years of honor roll, and 3 years Magna Cum Laude. She has organized a schoolwide food drive for Haiti Relief, been a worship leader for 4 years for students service, 7 years leading music for VBS programs and 4 years leading Heaven Train Worship throughout Ohio. After graduating from high school, Naya plans on attending college to study and major in the field of mathematics.
Chairman's email: paradeandqueens@sweetcornfest.com
SWEET CORN FESTIVAL Queen & Court Rules:
Takes place Thursday, August 29, 2019 at 7:30 p.m. on the Main Entertainment Pavilion. Each of the 18 area high schools select a young lady to represent them in our pageant. These young ladies participate in our Wednesday Grand Parade along with their high school band. On Thursday of our festival, they begin their path through the judging process with closed doors individual interviews beginning at 5:30 p.m. in the Lion's Club house. These interviews are conducted by 5 judges from outside the geographical area of these 18 high schools. Neither the judges nor the young ladies know who the other group is until 5:00 p.m. on Thursday of the festival. Following the closed door interview and the group walk through, the young ladies are then escorted onto the Main Entertainment Stage for public interview one at a time while continuing to be observed by the judges. following the completion of the on stage interviews, the judges retire to the Club House to tally their score sheets and determine our Queen, 1st and 2nd Runners Up.
The judging is based on 20% Activities, 15% Interview Questions, 15% Personality, 20% Speaking Ability, 15% Stage Presence, and 15% Overall Appearance.