Parade & Queens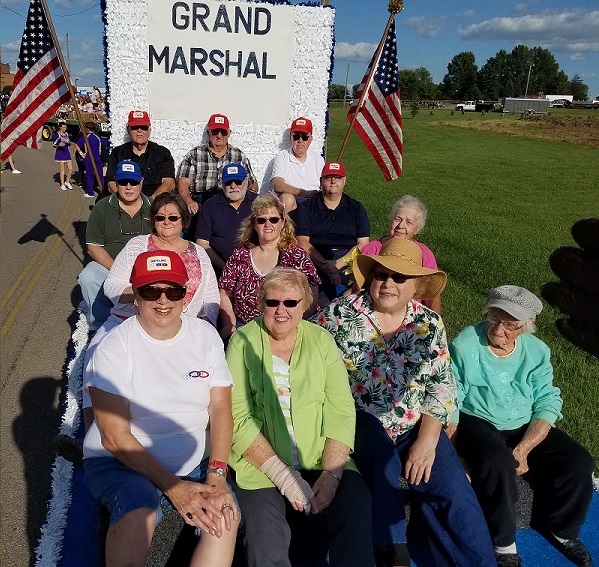 Queens Pagent and Banquet is
sponsored by:

Grand Parade
Date: Wednesday, September 1, 2021
Starting Time: 6:00 p.m.
2019 Grand Marshals: Advance Lodge 606 I.O.O.F. and Rebekah Lodge 885 of Millersport.
Units: Approximately 150
Participation: Pre-festival registration, INVITATION ONLY.
Description: The Millersport parade is an annual event to open the Sweet Corn Festival starts at Millersport High School and travels north on Lancaster Street in Millersport and turns east onto Chautauqua Boulevard finishing at Historic Lions Park in front of the Brookover/Harlow Pavilion. Featuring 18 High School Bands and a variety of other units.

Both lodges were selected to be honored for their long history of community service and participation in the Sweet Corn Festival from its founding on the streets of Millersport until a few years ago. The year 2019 also was celebrated nationally as the "Bicentennial of the Independent Order of Odd Fellows" in America. The first public recognition of this milestone occurred on January 1 in Pasadena during the Tournament of Roses Parade.

The Odd Fellows Lodge in Millersport was charted on June 30, 1875 with 15 members. There have been several lodge halls in Millersport over the years with the last one on the second floor of the Commodore Bank Building. Today they meet in the American Legion Hall. The Rebekah Lodge was charted on May 8, 1947 with 27 members. Both lodges meet twice a month and are still active in the community.

Chairman's email: paradeandqueens@sweetcornfest.com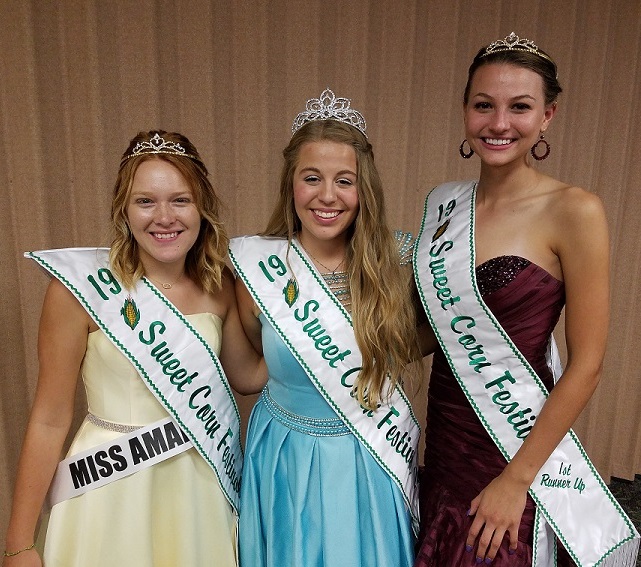 Queen and Court
2019-2021 Queen Lindsay Drumm – (Heath)
Lindsay is the daughter of James & Angela Drumm of Heath. She attended Heath High School where she was the field commander of the HHS Band, a member of the National Honor Society, Spanish Club, captain of the Quiz Team, Prom Committee, Varsity Track Team, and the Multicultural Club. She has been an active volunteer at art shows, Biddy Soccer Camp, tutoring young musicians, and the Dayton Tornado Relief. Lindsay is an artist and has her own progressing small business – Lindsay R. Drumm Art.

Lindsay now attends The Ohio State University studying Molecular Genetics, the Social Chair for OSU iGEM, and is continuing to sell her own woodburnings. She is proud to be studying cellular aging in yeast cells in Dr. Hay-Oak Park's lab and is continuing this throughout the summer of 2021 as a REU student at OSU.

2019-2021 First Runner-Up Emma Myers – (Logan)
Emma is the daughter of Phil & Tonya Myers of Logan, Ohio. She attends Logan High School where she is a member of the National Honor Society, the Trailblazing Mentor Program, the Chamber Singers, Choir Leadership Council, Purple Power Project Club, Varsity Soccer Team, and the Varsity Track & Field Team. She is very active in her church, scouts, 4-H, and hospital work. Emma also works in her family's business – Bear Run Inn Cabins and Cottages, a part-time photographer for the Logan Daily News and has a photography business with her father. Emma plans on attending college majoring in Biology and study Sports Medicine Orthopedics.

2019-2021 Second Runner-Up Kiley Holbrook – (Amanda Clearcreek)
Kiley is the daughter of Natalie & Keith Sells of Amanda, Ohio and Brad Holbrook. She is currently attending the Ohio State University as a double major in Agricultural Communications and Public Leadership, Management, and Policy. At OSU, she is a scholars student through the Mount Leadership Society Scholars Program. She is also the Community Service Chairman for the John Glenn Civic Leadership Council Executive Board, an Ambassador for The College of Food, Agricultural, and Environmental Sciences, the Lead Builder for a team during Mount Legacy Week, part of the Community Activities Committee, and a disciple in the Cru discipleship program. Outside of OSU, she still sings on the ACC worship team, she is working as a Head Lifeguard for the Lancaster City Pools, and she is a 2021-2022 Farm Credit Mid-America Scholar.

Chairman's email: paradeandqueens@sweetcornfest.com

SWEET CORN FESTIVAL Queen & Court Rules:

Takes place Thursday, September 4, 2021 at 7:30 p.m. on the Main Entertainment Pavilion. Each of the 18 area high schools select a young lady to represent them in our pageant. These young ladies participate in our Wednesday Grand Parade along with their high school band. On Thursday of our festival, they begin their path through the judging process with closed doors individual interviews beginning at 5:30 p.m. in the Lion's Club house. These interviews are conducted by 5 judges from outside the geographical area of these 18 high schools. Neither the judges nor the young ladies know who the other group is until 5:00 p.m. on Thursday of the festival. Following the closed door interview and the group walk through, the young ladies are then escorted onto the Main Entertainment Stage for public interview one at a time while continuing to be observed by the judges. following the completion of the on stage interviews, the judges retire to the Club House to tally their score sheets and determine our Queen, 1st and 2nd Runners Up.

The judging is based on 20% Activities, 15% Interview Questions, 15% Personality, 20% Speaking Ability, 15% Stage Presence, and 15% Overall Appearance.