Parade & Queens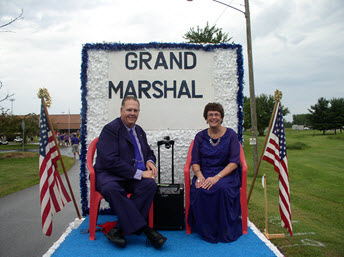 Queens Pagent and Banquet is
sponsored by:

Grand Parade
Date: Wednesday, August 30, 2017
Starting Time: 6:00 p.m.
2016 Grand Marshals: Steve and Rita Mohler
Units: Approximately 150
Participation: Pre-festival registration, INVITATION ONLY.
Description: The Millersport parade is an annual event to open the Sweet Corn Festival starts at Millersport High School and travels north on Lancaster Street in Millersport and turns east onto Chautauqua Boulevard finishing at Historic Lions Park in front of the Brookover/Harlow Pavilion. Featuring 18 High School Bands and a variety of other units.
The Millersport Lions Club was honored to have local community and civic leaders Steve & Rita Mohler to serve as Grand Marshals for the Grand Parade. Since 1983 this couple has been instructing generation after generation of youth in the finer aspects of vocal arts and drama for success in solo and group competitions. Steve serves as the Director of the Vocal Music Department for the Walnut Township School District. Rita is a fine, accomplished pianist assisting Steve in local school, church and community productions.
They are both active in the Millersport Community Theatre, Millersport United Methodist Church, the Sweet Corn Festival and about every aspect of our small, tranquil community. They are the backbone of the Millersport Music Boosters and can always be found working hard along side students, their parents, and other educators in the famous apple dumpling and ice cream booth.
Chairman's email: paradeandqueens@sweetcornfest.com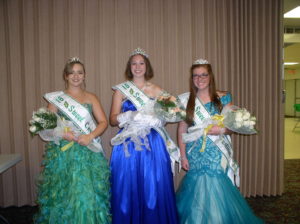 Queen and Court
2016 Queen Melissa Sommers – (Fairfield Union)
Melissa is the daughter of John and Diane Sommers of Pleasantville, Ohio. She attended Fairfield Union High School where she was in the marching band, jazz band, pep band and plays flute in the symphonic band. She served as Captain of the band's color guard and was active in Christian Fellowship, the French Club and appeared in the school production of "The King and I" and "Mary Poppins." Mellissa was inducted into the National Honor Society during her junior year. She serves on the Fairfield County Junior Fair Board, the Fairfield County 4-H.
Fashion and Nutrition Board, the Ohio 4-H State Fashion Board, and is an Ohio 4-H State Ambassador. She is a member of the Lithopolis United Methodist Church and volunteers with SNAP-Ed nutrition lessons at Summer Lunch programs for youth in Fairfield County. Melissa plans to pursue a four year degree fashion and retail studies at The Ohio State University.
2016 First Runner-Up Danielle Hannan – (Liberty Union)
Danielle is the daughter of Kellie and Randy Hannan of Baltimore, Ohio. She attends Liberty Union High School where she is Co-captain of the color guard, and active in winter guard, concert band percussion, jazz band pianist, pep band snare, Secretary of the band, reporter for the FFA Chapter, Prom Committee, Student Council, and is an honor roll student. She has achieved third in the State of Ohio for FFA Talent, President of the Parli Pro Team, and is a member of the National Anthem Singers for basketball games and OFBF (FFA) events. Danielle has served as a member of the Baltimore Canal Lock Days Royalty. She plans on attending the University of Virginia or Ashland University next fall, and majoring in criminal profiling and investigation with a minor in psychology. Danielle also plans to join the USAR as a military police for experience before applying for her dream job as an FBI agent.
2016 Second Runner-Up Paige Simons– (Logan)
Paige is the daughter of Bruce and Sherri Simons of Logan, Ohio. She attends Logan High School where she is active in the Key Club, serves as Captain of the Bowling Team, Logan Softball Program, Prom Committee, and is a member of the National honor Society. Paige has been named to the Academic All Southeastern Ohio Athletic League every year. She is a member of the Logan Church of the Nazarene and has served as a Sunday School teacher and Vacation Bible School worker for the past 7 years. Paige has been a member of the Christian Family Pioneers her whole life, a group that reenacts and participates in living history pre-1840's. As a 4-H member for over 10-years, she has held every office in her club, plus helping with Relay for Life, Volley for the Cure, Swing for the Cure and Strike Out Cancer. After graduating from high school, Paige plans on attending a four-year college to pursue a degree to work with special needs children.
Chairman's email: paradeandqueens@sweetcornfest.com
SWEET CORN FESTIVAL Queen & Court Rules:
Takes place Thursday, August 31, 2017 at 7:30 p.m. on the Main Entertainment Pavilion. Each of the 18 area high schools select a young lady to represent them in our pageant. These young ladies participate in our Wednesday Grand Parade along with their high school band. On Thursday of our festival, they begin their path through the judging process with closed doors individual interviews beginning at 5:30 p.m. in the Lion's Club house. These interviews are conducted by 5 judges from outside the geographical area of these 18 high schools. Neither the judges nor the young ladies know who the other group is until 5:00 p.m. on Thursday of the festival. Following the closed door interview and the group walk through, the young ladies are then escorted onto the Main Entertainment Stage for public interview one at a time while continuing to be observed by the judges. following the completion of the on stage interviews, the judges retire to the Club House to tally their score sheets and determine our Queen, 1st and 2nd Runners Up.
The judging is based on 20% Activities, 15% Interview Questions, 15% Personality, 20% Speaking Ability, 15% Stage Presence, and 15% Overall Appearance.