Parade & Queens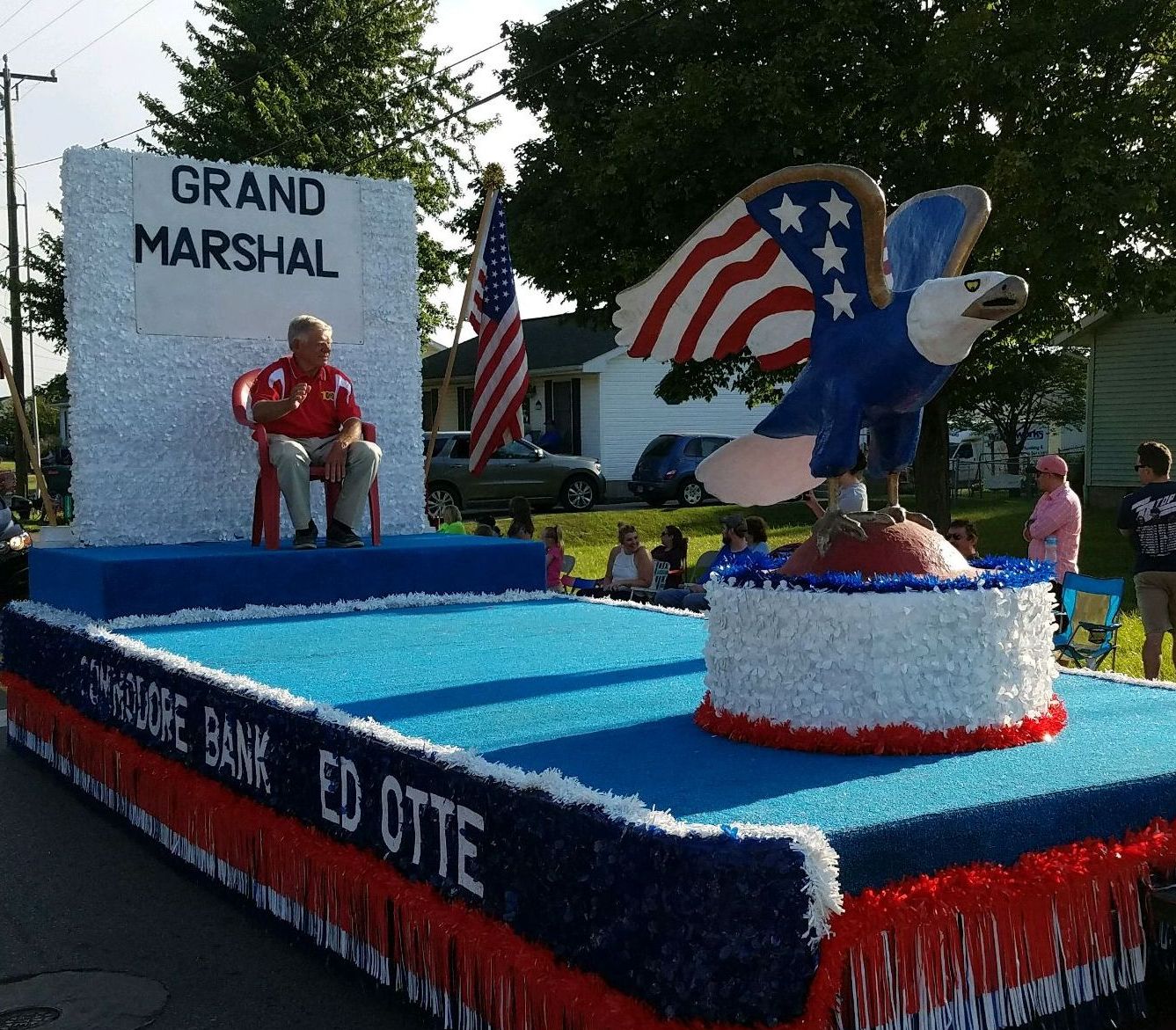 Queens Pagent and Banquet is
sponsored by:

Grand Parade
Date: Wednesday, August 29, 2018
Starting Time: 6:00 p.m.
2017 Grand Marshal: Lion Ed Otte
Units: Approximately 150
Participation: Pre-festival registration, INVITATION ONLY.
Description: The Millersport parade is an annual event to open the Sweet Corn Festival starts at Millersport High School and travels north on Lancaster Street in Millersport and turns east onto Chautauqua Boulevard finishing at Historic Lions Park in front of the Brookover/Harlow Pavilion. Featuring 18 High School Bands and a variety of other units.
In 2017 the Millersport Lions Club selected an individual that exemplifies the characteristics of the founder of the International Association of Lions Clubs, PDG Ed Otte of Millersport. He truly lives our motto, "we serve." He has always put others first, and has dedicated his stellar life to making a difference locally and globally. He reminds people of famous humorist Will Rogers, "he has never met a man he didn't like."
He is currently serving his 27th year as Treasurer & Business Officer of the Sweet Corn Festival, Inc. Since joining the Millersport Lions Club in 1981 he has served in practically every office of the club and has been on the Board of Directors for over 30 years. He is a Melvin Jones Fellow and has served as District Lions Governor, Cabinet Secretary/Treasurer four times, Zone Chair, District Newsletter Editor, a member of the Operating Board of the Central Ohio Lions Eye Bank, an Ohio Lions Eye Research Foundation Trustee, and was Host Forum Treasurer for the 2006 USA/Canada Lions Leadership Forum. His list of awards is too long to mention.

Ed is active in the Epiphany Lutheran Church in Pickerington, has been a member of the Lancaster-Fairfield County Charity Newsies for over 25 years, and serves as the President of the Millersport Senior Citizens organization. A U.S. Army veteran, Ed retired from the Ohio Department of Agriculture and still loves farming and sports. Ed will lead the 71st Sweet Corn Festival Grand Parade on the Commodore Float on Wednesday, August 30, 6:00 p.m.

Chairman's email: paradeandqueens@sweetcornfest.com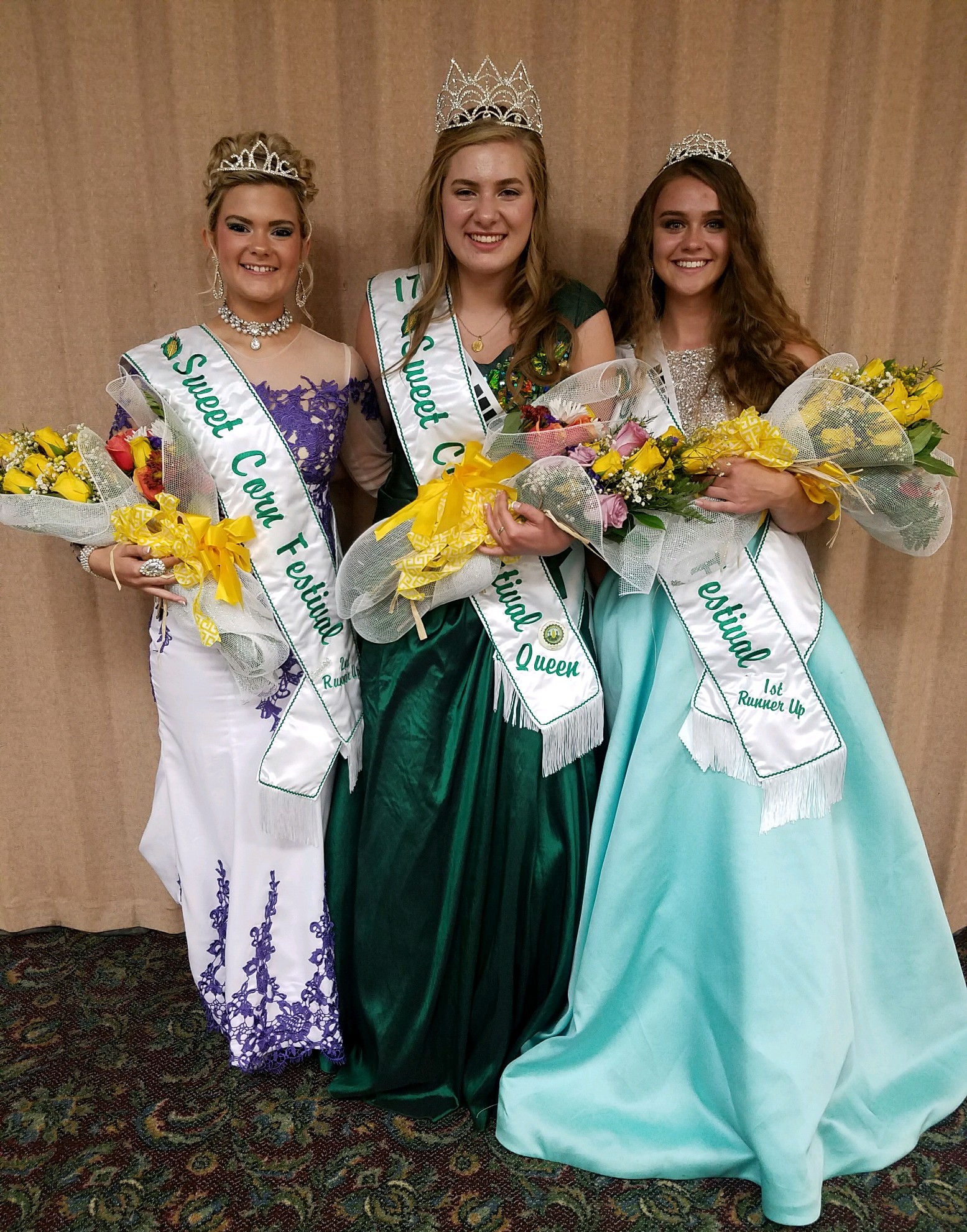 />
Queen and Court
2017 Queen Dana Keller – (Millersport)
Dana is the daughter of Dr. Glen and Karen Keller of Millersport. She attends Millersport High School where she is in the marching band, concert band, concert & show choir, German Club, Spanish Club and Art Club. Dana is a band and choir section leader, has had leads in school musicals and is on the varsity volleyball team. Dana is a member of the National Honor Society, National Art Honor Society, Tri-M Music Honor Society and is a Top Scholar. She loves to volunteer at the local food pantry, serve as a counselor at girls church camp and has attended Buckeye Girls State. In her spare time she is a Secretary and Landscaper at Keller Family Chiropractic. Dana plans to attend BYU-Idaho majoring in chemical engineering.
2017 First Runner-Up Allison Bash – (Northridge)
Alison is the daughter of Todd and Stacy Bash of Alexandria, Ohio. She attends Northridge High School where she is Editor of the Yearbook, Chinese Club Treasurer, a Varsity Cheerleader and a member of the National Honor Society. Alison is busy in 4-H, her church's Vacation Bible School, the summer program at Children's Hospital and a Sunday School helper at her church. She is a Certified Trainer at Panera Bread. Alison plans on attending The Ohio State University to major in biology, then hopefully enter OSU's medical school to become a pediatrician.
2017 Second Runner-Up Kaylee Culbertson– (Logan)
Kaylee is the daughter of Tom and Jackie Culbertson of Logan, Ohio. She attends Logan High School where she is active in the marching band, pep band, jazz band, stadium band, show band, concert and symphonic band. Kaylee is Secretary of the Student Council, serves on the Prom Committee, is a member of the National Honor Society and the National Art Honor Society. Her art has been displayed in the Bowen House and has competed in regional baton and dance pom competitions. Kaylee loves caring for animals and would love to pursue a career in taking care of injured animals and releasing them back into their natural environment. After graduating from high school, Kayee plans on attending college to study Wildlife Management.
Chairman's email: paradeandqueens@sweetcornfest.com
SWEET CORN FESTIVAL Queen & Court Rules:
Takes place Thursday, August 30, 2018 at 7:30 p.m. on the Main Entertainment Pavilion. Each of the 18 area high schools select a young lady to represent them in our pageant. These young ladies participate in our Wednesday Grand Parade along with their high school band. On Thursday of our festival, they begin their path through the judging process with closed doors individual interviews beginning at 5:30 p.m. in the Lion's Club house. These interviews are conducted by 5 judges from outside the geographical area of these 18 high schools. Neither the judges nor the young ladies know who the other group is until 5:00 p.m. on Thursday of the festival. Following the closed door interview and the group walk through, the young ladies are then escorted onto the Main Entertainment Stage for public interview one at a time while continuing to be observed by the judges. following the completion of the on stage interviews, the judges retire to the Club House to tally their score sheets and determine our Queen, 1st and 2nd Runners Up.
The judging is based on 20% Activities, 15% Interview Questions, 15% Personality, 20% Speaking Ability, 15% Stage Presence, and 15% Overall Appearance.